In Middle America, a land heralded for food production, it's hard to fathom that one of every six people in the U.S. struggles to obtain nutritious food. Yet in 2016, more than 41 million Americans could not afford balanced meals, reduced the size and frequency of their meals or went hungry due to lack of resources and fresh food for sale near their homes. Food insecurity has grown by nearly 60 percent since the late 1990s, spurring the creation of more than 50,000 food banks and soup kitchens across the country. Even with emergency food programs, many of the most commonly donated foods are high in salt, sugar and fat, which can have a negative impact on overall health. Several organizations across Indiana, Ohio, Kentucky and Tennessee work to get fresh fruit, vegetables and animal protein onto the plates of those in need. The Farms to Food Banks program, for example, partners with organizations and farmers to recruit volunteers to glean, harvest, package and distribute goods through the food bank network. Not only do farmers get the chance to give back to their communities and help the hungry, they also reduce food waste by donating produce that would otherwise be plowed into compost. At Farm Credit Mid-America, we're proud to partner with farmers, protein producers and distributors across our territory to fight hunger and help close the meal gap. Scott Laguire, a Farm Credit financial officer and volunteer, explains the impact of a network of farmers, food banks and volunteers: "You're taking what your customers produce, not letting that go to waste, and giving it to people who are extremely thankful and appreciative of it."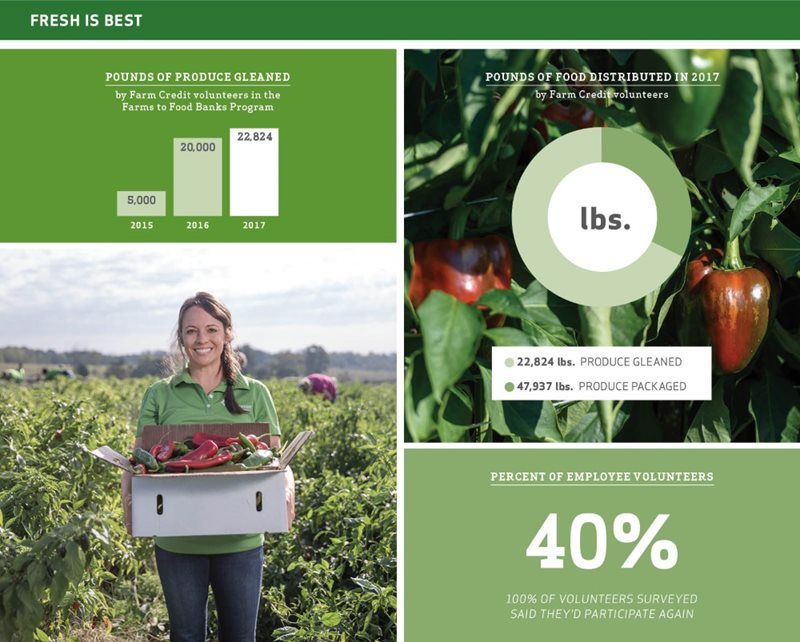 Fresh is best
Increasing the quality, variety and nutritional value of food and making it available in food deserts is a crucial step toward building healthier eating habits and communities. According to Tamara Sandberg, executive director of the Kentucky Association of Food Banks, "We know that once people try fresh fruits and vegetables through our Farms to Food Banks program, they reported being more likely to use the resources they do have to buy fresh produce again." Last year, food banks distributed more than 45 million pounds of produce throughout our four-state territory – enough to supplement 38 million meals.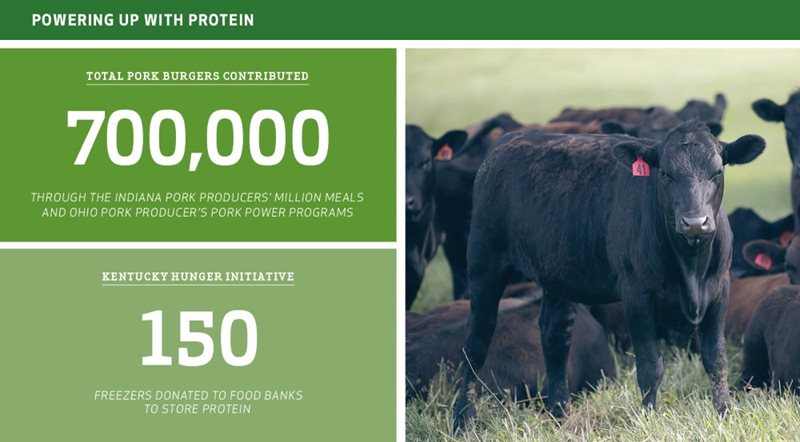 Powering up with protein
For many who struggle with food insecurity, high-quality animal protein is unaffordable and is often substituted with highly-processed meats that contain little nutritional value. Farm Credit partnered with farmers and organizations such as Indiana and Ohio Pork Producers and the Tennessee Cattlemen's Association to donate more than 700,000 pounds of pork and beef to those in need over the last five years. Food banks are also faced with the challenge of storing meat because it needs to stay frozen for safe consumption. This summer, Farm Credit supported the Kentucky Department of Agriculture's Hunger Initiative by donating 150 freezers to food shelters throughout the state to store animal protein.
From food desert to oasis
While food insecurity affects every community, it disproportionately affects people in metropolitan areas, households with children, single-parent families and those living at or slightly above the poverty line. In middle Tennessee, more than 400,000 people are food insecure and 26 percent of hungry children are unlikely to qualify for federal nutrition assistance, making food banks a lifeline for many. Second Harvest of Middle Tennessee is one of the largest food banks and distribution centers in the nation, delivering more than 32 million pounds of food to residents in 46 counties in 2017. To make food more accessible, the distribution center is opening a branch in the western part of its territory, which serves 14 counties in the state. In addition to helping fund the new facility, Farm Credit partnered with Second Harvest and other ag organizations to launch the Shooting Hunger Sporting Clays fundraiser which has generated more than 428,000 meals since the program's inception three years ago.