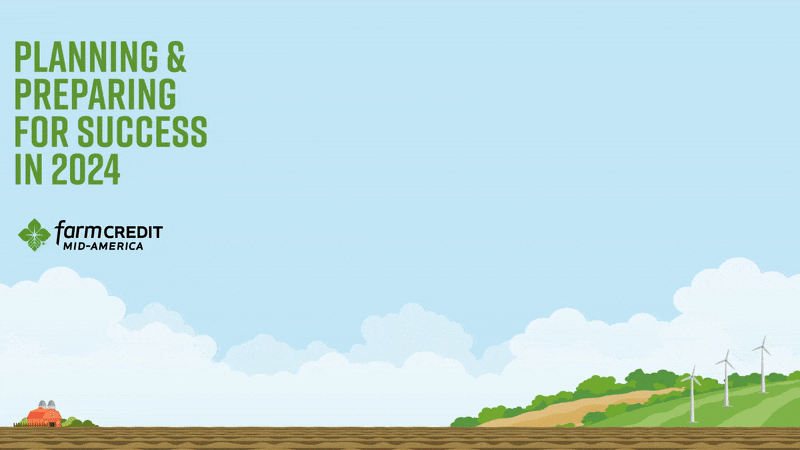 Although many of us are in the middle of harvest or coming to the end of the growing season, the need to plan and prepare for the upcoming year is crucial. To set yourself up for success, observation and adaptation will be key to navigating an ever-changing economic landscape. To help, we reference the OODA loop developed by military strategist John Boyd. OODA is the process by which we acclimate ourselves to a situation and make a decision. To start you Observe the situation, Orient yourself, make a Decision and Act on that decision. This technique can be applied to everyday situations on your farm and beyond, to help you foster success and growth.
A 30,000-foot view
David Widmar and Dr. Brent Gloy of Agricultural Economic Insights, together with Farm Credit Mid-America's Senior Financial Officer Kyle Weber offer their observation of the 2023 farm economy in regards to commodity crops and fertilizer. Commodity markets can be volatile, and responding to the changes can be difficult for producers. Widmar advises keeping an eye on exports and yield adjustments. As you prepare for 2024, one of the decisions you will need to make is when to buy fertilizer or other supplies. Due to price volatility, the supply chain might impact when you decide to make larger purchases for your operation.
Pulling the pieces together
The first thing to do is update your 2023 financial performance with actuals, yields and price estimates. Where are you running compared to where you projected at the beginning of the year? Are you doing better or worse than planned? Now is the time to sit down with your financial officer. There is never a bad time to start planning, and the end of the year tends to be busy with holidays and other obligations.
What are the big decisions you will face next year?
Prioritize the most important decisions you will make between now and the first of the year. Ask yourself which ones you will focus on during rainy days and identify information that might be missing. Perhaps you need to talk with your financial officer or fertilizer supplier. Initiate those conversations by putting them into your OODA loop. Next, ask yourself what decisions you repeat year to year. How can you minimize the time and effort these decisions consume daily? If you operate in a reactive space, you often spend unnecessary time focusing on decisions that should be easy to make. Lastly, what's on your watch list? What are the decisions you can change and what conditions would cause you to deviate from your choice.
Making your decisions work for you
Once you are ready to take action, use your OODA loop to reflect on what went well last year. What opportunities do you see for the coming year? How can you improve on a year to year basis? Now is the time to proactively plan for next year and continue on the path to success. If you have any questions or aren't sure how to get started planning for 2024, reach out to your financial officer at Farm Credit Mid-America or visit fcma.com for more information. Have a safe and happy harvest!