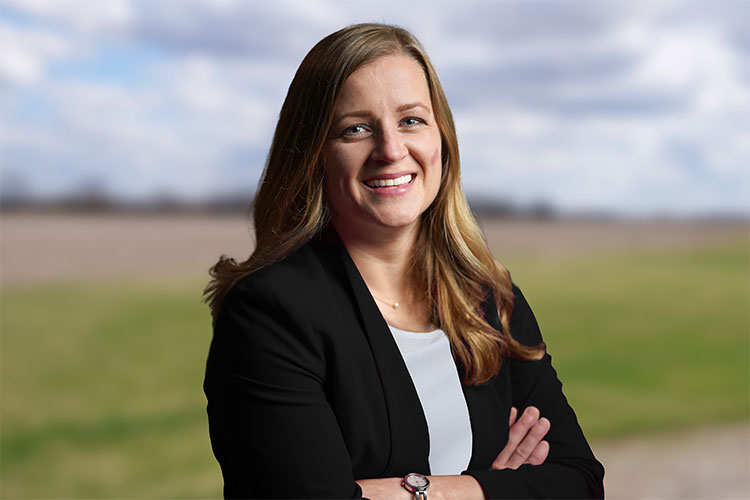 Farm Credit Mid-America has promoted Melanie Strait-Bok to Senior Vice President of Agricultural Lending for Ohio. In her new role, Strait-Bok leads agricultural lending sales and support teams throughout the state.
"I am grateful for the opportunity to lead our Ohio team members as they continue to serve farms of all sizes across the state. This work to secure the future of rural communities and agriculture is so important, not only in Ohio, but in all of the areas Farm Credit Mid-America serves," Strait-Bok says. "In addition to supporting our team members as we provide reliable credit to farmers, I am excited to deepen our relationships with industry partners across the state, continue sharing our expertise and helping Ohio agriculture thrive."
Prior to her current position, Strait-Bok served as Regional Vice President of Agricultural Lending for Northwest Ohio. She has also held various other roles during her 18 years with Farm Credit Mid-America, serving farmers, rural homeowners and team members in Ohio and Indiana.
Strait-Bok earned a Bachelor of Science in Agriculture, Environmental, and Development Economics from The Ohio State University in Columbus and a Master of Business Administration from Bluffton University in Bluffton, Ohio. She is also an active member of Ohio Farm Bureau, Ohio Corn and Wheat, Ohio Soybean Association, Northwest Ohio Women in Ag and Farmer Veteran Coalition.
"Melanie brings valuable experience and perspective to this role and to Farm Credit Mid-America at large," says Tara Durbin, Chief Lending Officer Agriculture Lending for Farm Credit Mid-America. "Her Ohio roots and her dedication to advancing meaningful partnerships will be an asset to customer-owners, partners and team members across the state."
Strait-Bok resides in Northwest Ohio with her husband, Chad, and two children. They are part-owners of a cash grain farm, Pioneer Seed business and Cone Guard LLC.