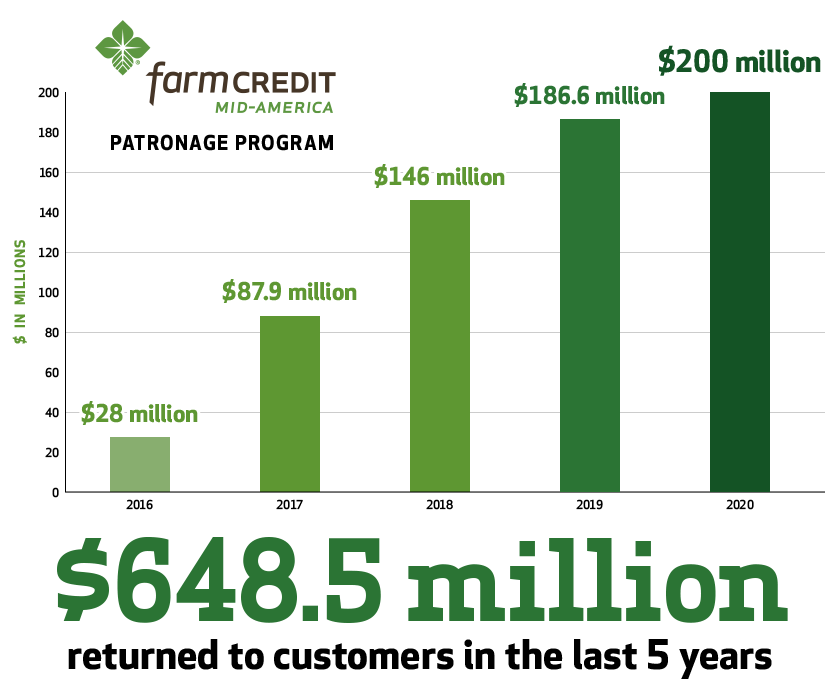 This month, Farm Credit Mid-America will pay a record $200 million in cash patronage dividends to eligible customer-owners through its Patronage Program. The distribution brings the total amount returned to customers over the last five years to $648.5 million.
As a customer-owned cooperative, Farm Credit Mid-America understands that extra capital can make a big difference in a customer's operation.
"The past several years have presented more than their fair share of challenges for the resilient men and women in agriculture," says Bill Johnson, Farm Credit Mid-America president and CEO. "Despite the challenges of 2020, our cooperative continued to grow. One of the many powerful benefits of belonging to a cooperative is the opportunity to share in our collective successes. This year's Patronage Program will return a record amount of capital to eligible customers, and we hope these distributions provide a welcome boost for their operations."
Patronage payment is not a guarantee—the Association's board votes to approve the program annually, and not all customer-owners will receive a check. The amount each eligible customer receives is proportionate to his or her transaction level with the Association during 2020. Since patronage is taxable income, customers will receive IRS forms related to this year's patronage in January 2022. Farm Credit Mid-America encourages recipients to speak with their financial advisors.
In addition to receiving Patronage, customer-owners of Farm Credit Mid-America may contribute to our purpose to secure the future of rural communities and agriculture in a variety of ways. These include participation in annual Board of Director and Nominating Committee Elections, the ability to vote on issues that influence the operations of the Association, and the opportunity to serve on the Advocate Council, a diverse group of professionals and leaders from across Indiana, Ohio, Kentucky and Tennessee who deepen our impact, relationships and support for customers.
For more information about Farm Credit Mid-America's Patronage Program and its eligibility requirements, click here.