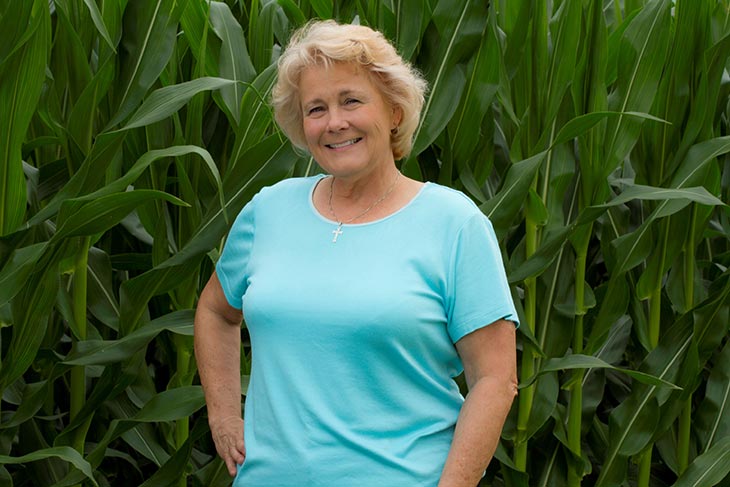 "I am dedicated to agriculture and to the opportunities that it must provide; both to those of us producing from the land and those to be fed, clad and energized by that production. Informed decisions today will provide farming opportunities tomorrow." - Kaye Hurst Whitehead
The Board of Directors, team members and customers of Farm Credit Mid-America mourn the loss of board member Kaye Hurst Whitehead. Whitehead resided in Mt. Pleasant, Ind. and died on Thursday, September 9, 2021 at Ball Memorial Hospital in Muncie.
Her passion for agriculture started at an early age on her family farm in Cox's Creek, Kentucky. She pursued that passion to the University of Kentucky where she earned a Bachelor of Science in Agriculture. For her farming efforts, Kaye was recognized as the Indiana Prairie Farmer Master Farmer.
"Kaye's dedication to Indiana agriculture set her apart," said Bill Johnson, President and CEO of Farm Credit Mid-America. "She was intensely future focused and whole-heartedly believed in and lived out our purpose of securing the future of rural communities and agriculture."
"Kaye served on the Board of Directors for the past decade and offered her expertise on several committees," said Andrew Wilson, Board Chairman. "She was a strong asset to our board and to her local community and will be greatly missed by all she impacted."
Kaye is survived by her husband of 44 years, Bill; mother Laura; son Eugene (Tara) Whitehead; daughter Lucy (Matt) Keller; sisters Marie (Larry) Rogers, Anne (Tony Greer) Hurst; brother Chris (Tracy) Hurst; and three grandchildren.
In lieu of flowers, donations can be sent in Kaye's name to Harris Chapel Church of the Nazarene, 10450 S. Co. Rd. 544 E, Selma, IN 47383.
Online condolences may be directed to the family at www.meeksmortuary.com.
You may also read her full obituary at www.legacy.com.